Higher Learning

The Nkrumah International Academy offers Pre-Law, Pre-Engineering, Pre-Med and Entrepreneurship Programs for what we call "college/life prep courses" to children grades 5 - 12.

Teaching Excellence

Our Reading Program is aligned with African History, English Grammar, Writing and the Pre-Law course as the instructors assist each other in the building of the curriculum.
In an Afrikan centered context, our purpose is to build Afrikan children to be exceptional, academically intense, driven and disciplined human beings. Our vision is to build a grand Afrikan that will display to the world a new type of leader with a global self-determined, politically whole and holistically substantial stake in his or her own global independence.
Creating Thinkers
Our method – regimented and demanding – focuses on teaching students to analyze and critically solve problems.
Diverse Studies
Our students pursue a rigorous curriculum in reading, writing, mathematics, and science; and they begin in the early grades to study foreign languages, music, and the arts.
Measured Goals
The quality of students' products is determined by appropriate levels of achievement and demonstrated proficiency.
What we offer.
We offer Pre-Law, Pre-Engineering, Pre-Med and Entrepreneurship Programs for what we call "college/life prep courses" to children grades 5 - 12. Our program is extremely unique and tailored specifically to Afrikan youth for their success in critical thinking, community building, and upholding our Code of Culture.
A Comprehensive Approach
The most comprehensive approach to addressing the problems of Afrikan miseducation is an African centered Education. Our approach to Afrikan centered Education involves working with Afrikan students to master the academic disciplines on a high level, while grounding them in an Afrikan reality. We teach our students events, places, people and things with crucial reference to and in the critical context of the historical trajectory of people of Afrikan descent.
We present our daily lessons through literature, discussions and activities. This procedure is done through our practice of Repetition, Duration and Frequency in order to reinforce. Inculcated into lessons is a conceptual framework that provides grounding to explain our historical presence and relevance of the theories to make sense. As Afrikan Centered scholars responsible for the development of the minds of African children, we must advance several concepts that constitute cultural imperatives of Afrikan centered Education. These concepts are considered the "main ingredients" of cultural development.
Identity
Pan Afrikanism
Afrikan Culture
Afrikan American Culture
Afrikan values adoption, practice and transmission
Black Nationalism
Community control
Institution building
Education opposed to schooling
NKRUMAH STUDENT GUIDELINES
Students will be dressed in proper uniform everyday.
Clothing with European images are not allowed on school premises.
Female students must wear skirts below the knee.
For severe offensive behavior, students are under a 2-strike policy and possible expulsion from school.
Certain behaviors will be treated case by case with parent involvement.
Nkrumah reserves the right not to admit any student and perform corrective action as the Director sees fit.
If you have questions about our program, please call us to discuss by appointment, or send us a message through our contact page.
Benefits.
Our children learn to be responsible and independent in their studies, and to work on their own and with others. They become critical and creative thinkers who excel in their community, as well as in learning.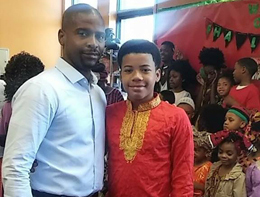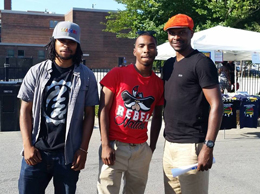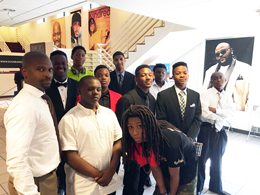 Classes Offered
A list and description of the classes we offer to the Nkrumah International Academy Student Body.
Countrymen, the task ahead is great indeed, and heavy is the responsibility; and yet it is a noble and glorious challenge - a challenge which calls for the courage to dream, the courage to believe, the courage to dare, the courage to do, the courage to envision, the courage to fight, the courage to work, the courage to achieve - to achieve the highest excellencies and the fullest greatness of man. Dare we ask for more in life?

— Kwame Nkrumah

Credentials and classrooms are useless unless they lead us toward consciously applying knowledge to improve the quality of our community.

— Mwalimu K. Bomani Baruti

THE MOST POTENT WEAPON IN THE HAND OF THE OPPRESSOR IS THE MIND OF THE OPPRESSED.

—Stephen Biko
Faculty and Staff
Meet the mentors behind the lessons.
Marcus Kline
Rutgers University
Afrikan History, U.S. Constitution, Social Studies and American History
Samuel Adams
B.A., Morehouse College
English Grammar, Afrikan Literature, American Literature and Journalism
Iyabo Williams
B.S. Mathematics, Spelman College
B.S. Engineering, University of Michigan
Pre Algebra, Algebra, Geometry, Calculus, Physics and Pre Engineering
Dr. Batu Shakari
Ph.D., Nationhood Development and Maintenance, Northeastern Illinois University
B.A., Northeastern Illinois University
Nationhood Development and Maintenance
Hunter Adams
B.S., Chicago State University
Introduction to Neuroscience
Terrance Hale
Sancues Ryu Ju-jitsu
Dr. Adedoyin Shittu
University of South Florida
Biology, Chemistry, Anatomy, Microbiology, Biochemistry, Immunology, Epidemiology
Greg Carmouche
Afro Cuban Percussions
Reba Boose-Brown
B.A., Formal Education in Spanish Language Studies, Northeastern University
Spanish
Dr. Mohamed Sherriff
B.S., Roosevelt University
M.S., Organic Chemistry, Illinois Institute of Technology
P.H.D., Organic Chemistry, Louisiana State University
Chemistry, Biology, Pre Med
Richard Powell
B.S., Finance, Dartmouth University
M.S., University of Illinois-Chicago
M.B.A., University of Chicago
Coding, Stock Market Analysis
Touwende Philippe Dianda
B.A., Burkina Faso
French
Dr. Amara Enyia
Ph.D., Law, University of Illinois
Pre Law
IN THE NEWS
Infusion of African Culture into Home and After School Programs
Master Teacher Marcus Kline demonstrates strategies and uses The Historic Journey and other resource curriculum's to infuse culture into traditional lessons.
Contact Us
Reach out to one of our staff to schedule an appointment, ask a question, or inquire about our classes. Asante Sana!
Nkrumah International Academy
7415 S East End Ave
Chicago, IL 60649
773.891.3282